This 52-page issue is dedicated to all who have served in our nation's military and includes articles on the Wreaths Across America ceremony at Robinson Memorial Gardens in Easley (by American Legion Post 52) (wreaths placed at the gravesites of more than 400 gravesites, including Captain Kimberly Hampton and Captain William Kennedy Mauldin), the Wreaths Across America ceremony at Sunrise cemetery in Pickens (by the Pickens County Historical Society and the City of Pickens), a wreath-laying at the gravesite of PFC Barrett Austin in Pickens for Wreaths Across America, the Fort Prince George Chapter of the DAR honoring local World War II veterans, World War II veteran Raymond Dawkins of Pickens being awarded the French Legion of Honor, Memories of World War II POW and Bataan Death March survivor Ben Skardon of Clemson, Memories of Korean War POW First Lieutenant Bill Funchess of Clemson, American Legion Post 52's ceremony, honoring veterans, at Robinson Funeral Home in Easley, and Pickens County's Veterans Parade in Liberty.
This 36-page issue features messages from, in alphabetical order: Dr. Danny Akin ("Jesus is Everything to Me! The Glorious Truth of Philippians 1:21 Lived Out in the Life and Death of William Wallace"), Dr. David Gallamore ("Be a Lighthouse for Jesus"), Dr. Junior Hill ("The Valley of Baca"), Dr. Stuart Houston ("Obeying the Heavenly Vision"), Dr. Randall Jones ("How God Spells 'Go'"), Dr. Herb Reavis ("Faith Among the Faithless"), and Dr. Keith Shorter ("Making God Smile").
This 32-page issue is dedicated to the memory of several preachers (pastors and evangelists) previously interviewed by The Christian View magazine who have since passed to heaven: in alphabetical order, Dr. Sam Cathey, Rev. H.C. Couch, Dr. Jack Hester, Dr. Julius Scipio, Dr. Bill Stafford, and Dr. Fred Wolfe, as well as a guest article written for The Christian View magazine by Will Graham about his paternal grandparents, Dr. Billy Graham and Ruth Bell Graham.
This 28-page issue is dedicated in memory of Bobby Bowden, the legendary Florida State Seminoles Head Football Coach, celebrating his life and his legacy of faith, family, and football, with memories shared by all who spoke at his Celebration of Life service, in order: the Rev. Dr. Bobby Butler, Charlie Ward, Derrick Brooks, Mark Richt, Warrick Dunn, Mickey Andrews, Ginger Bowden Madden, Tommy Bowden, Terry Bowden, and the Rev. Dr. Ronny Raines, with music by Hope Ward, Winnie Heggins, the Florida Agricultural and Mechanical University Gospel Choir, and the Florida State University Marching Chiefs.
,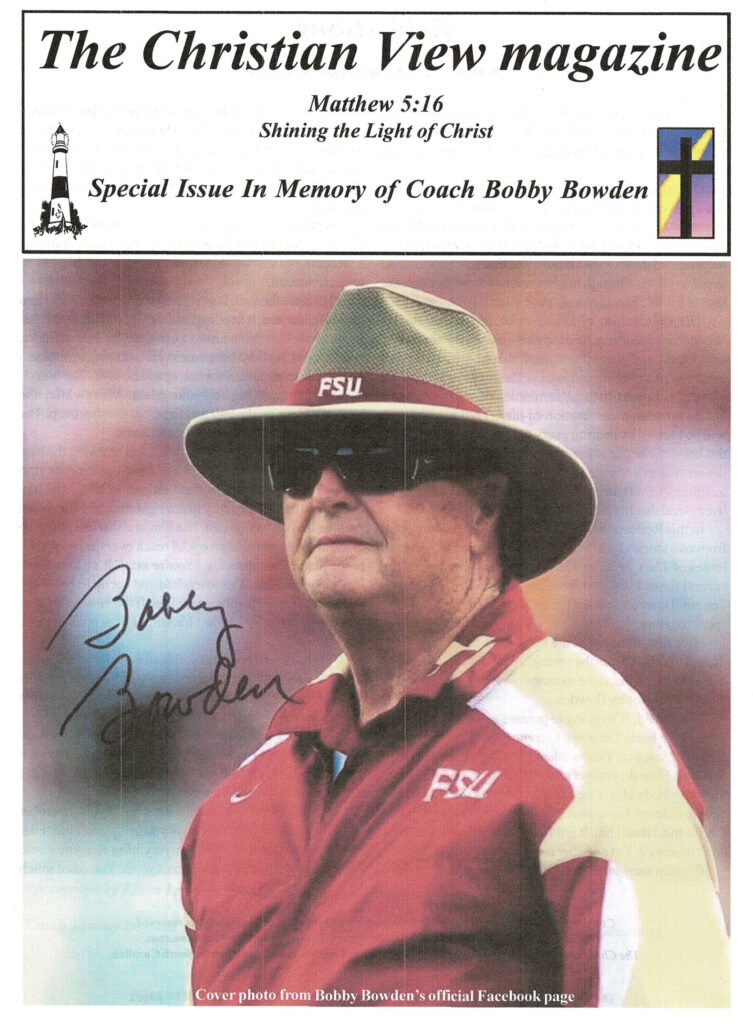 From 2004 through late 2021, The Christian View magazine featured more than 1,700 individuals in hundreds of articles and more than 8,000 photographs, first in printed quarterly issues and then in The Christian View magazine's former weekly online Christian news magazine. In late 2021, The Christian View magazine returned as a quarterly printed magazine, and each new print issue will also be available to read online on The Christian View magazine's website.
This 44-page issue, the first issue printed by Lighthouse Printing, is dedicated to all who have served in the United States Armed Forces, including those Americans who gave the ultimate sacrifice, with articles about Barrett Austin, Kimberly Hampton, Charles Johnson, 'Rut' Liles, John Reaves, World War II POW Ben Skardon, Korean War POW Bill Funchess, Vietnam War POW Bill Austin, World War II veteran John Holcombe, Clebe McClary, Bob Nash, the Vietnam Moving Wall, Quilts of Valor, The Pickens County Veterans Parade and Salute to Veterans, the Honoring Their Service Ride, the American Legion, and more.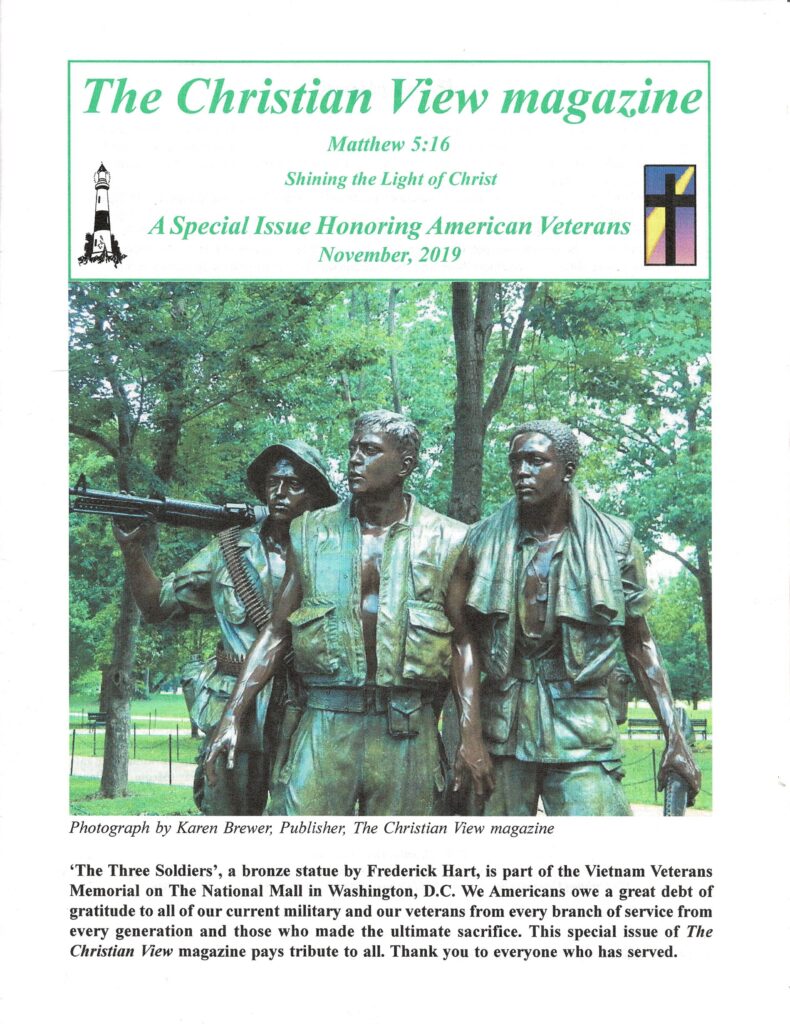 This 20-page oversized 11″x15″ issue celebrates Pickens County's Sesquicentennial events and shares citizens' memories from Pickens County's Centennial celebration 50 years earlier.